I'm a day late and I haven't posted much lately: I've had a very stressful home-school week as we start school on Monday (the seniors, 2 meters apart and I'm super happy to see my friends again, but waking up at 6.30am again is going to be torture) and I had the worst migraine yesterday – so I was super inactive 😦 But anyways: here are all the books/ bookish things about last month and my reading goals for May!
April Wrap-Up
all the books i read:
Chain of Gold was the first book I read in April and I was absolutely ENCHANTED. The characters, oh, I've missed Shadowhunters! Matthew Fairchild is everything – everything, people – and the Herondales are as charming as ever, and obviously Cordelia is a perfect protagonist! And the plot developed amazingly: at first I thought well, what's special about some demon attacks, it's nothing like we haven't read before?! but boy, was I wrong! So many twists and turns, character development and open endings and I honestly can't wait for the second book of The Last Hours series!
Next up we have Harry Potter and the Prisoner of Azkaban – I finally managed to reread the third book! And it was absolutely spectacular! The feels, you all, are real! I was so enchanted by the Wizarding World and everything about Hogwarts… I immediately continued and made it halfway through Order of the Phoenix and also really LOVED that! But then came Celaena and I was torn. And so I will be continuing with my Harry Potter Rereading Marathon as soon as I finish with Sarah J. Maas's series!
Well, Adarlan's Assasin kind of stole Harry's show – I recently wrote a post featuring Throne of Glass and from that moment on, the series was in my head and it was such a gut decision, but I picked up Crown of Midnight and am almost finished: tragically, my migraine and school stopped me from finishing, but I have 100 more pages to go and will hopefully finish it tomorrow!
Netflix overdose due to quarantine:
This Austrian series called Freud was a whole other level than expected: for some reason, I thought it would be a kind of biography/ rise to fame of the famous psychologist Sigmund Freud and him investing a mass murder in Vienna – but it was much more. Full of supernatural rituals, visions, the uproar against the Austrian-Hungarian Empire, and obviously the murders that are so much more complex than expected…
Unorthodox is the complete opposite, totally different: it's about a young orthodox Jewish woman in New York who escapes her arranged marriage and looks for her mother in Berlin in hope to start a new life. This was moving and touching on another level. I HIGHLY recommend watching this mini series, four episodes each fifty minutes and you will be smarter afterwards. It featured so many depths of the orthodox life and Yiddish and I had no idea of half of it… It's a must-watch!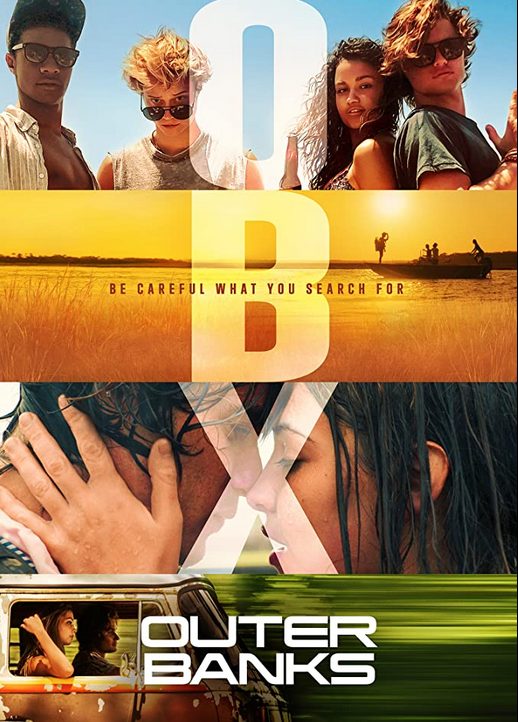 And now because I'm on the hype-train I had to start Outer Banks! I mean, the plot is good but not too spectacular, some twists and turns we super obvious and I feel like they overcome every obstacle in their way – but I'm only at episode four. And I mean, why are we all watching this series: because of the surf boys and the awesome lifestyle. That was obvious, and John BB, JJ, Pope and Topper are delivering, and I love Kie and Sarah – so it's all good haha!
tags, discussions and other posts!
TTT: books I bought because of… (ft. my friends, the hype train and bloggers!)
TTT: books I enjoyed but rarely talk about (ft. some older reads I would really recommend!
TTT: books I read because of FOMO (and it's real, people)
TTT: books I wish I'd read as a child (ft. some great classics!)
Let's Talk Bookish: book fandoms (ft. what I consider to be a fandom, which fandoms I consider myself part of and the famous PRO and CON list!)
Let's Talk Bookish: the hype train (ft. why I'm part of it, some faves, disappointments and the risks!)
Let's Talk Bookish: all about books (ft. how many I own, a bookshelf tour, my favorite book store and travel discoveries!)
A Random Thoughts post ft. The Harry Potter Marathon, my favorite albums and some cooking time because quarantine cooking is real!
The Harry Potter Film Binge Quiz + tag along! – I take another Pottermore quiz, it wasn't as bad as the first one I took, you can tag along and see for yourself how closely you were paying attention to the movies because DETAILS, people!
May TBR
I really want to continue the Throne of Glass series! I won't set my goals too high because school start next week will wear me out and I probably won't get to read a single page next week! But I'm super excited to see where this leads, maybe a revolution and will it be Dorian or Chaol and what will happen to Caleana – is she the daughter of someone important, what of her past is she hiding from us? I can't wait to find the answers!
Other than that, I just hope to continue with Blacklist, my mom and I are currently binge-watching the second season are LOVING every episode!
That's it – hope you enjoyed my looooong April Wrap-Up and quite the opposite for May. Heads up: I don't think May will be my best blogging month just because of the whole COVID19 and school situation. Us seniors are going back Monday, meaning exams will dawn at some point and that will be stressful. Happy reading everyone and feel free to comment what you thought of the mentioned books/posts!