2020 is more than half-way over and I'm stick stuck in March. Corona made me loose track of time, I feel like we skipped the whole spring season and to be honest, we were thrown into summer?! During the past month, we slowly returned to reality, I have normal school again and that is something I'm immensely grateful for – some exams coming up (not very cool), but I am ready to enjoy summer evenings with my friends and am super excited for the trips my family has planned for summer break!
However: my reading, very unpredicted, suffered immensely this year. Normal as it started, I was suffocating in school work and then corona said hi and home schooling was even more intense and I haven't had much time to read. So this should be fun, with the little amount of read books so far. By the way, I got the idea from Kaya @afictionalbookworm – so check out her post as well!
#1 The best book you've read so far in 2020?
Chain of Gold – hands down. I can only praise this book and its development: it started off a bit "normal", some demon attacks and I was wondering where the actual great story was hidden – but there was so much more coming, character and plot-wise. And I can't wait for the sequel. (Check out my spoiler review!)
#2 Best sequel you've read so far in 2020?
The disgrace that I am, I'm still missing seventy pages to Crown of Midnight. And it has nothing to do with the book itself: awesome continuation from Throne of Glass!
#3 New releases you haven't read but want to?
Just jumped over to Goodreads and OMG My Calamity Jane just got released?! Whaaaat, I thought I had to wait for another month – just ordered it, obviously and can't start reading. Especially because I'm currently in the middle of rereading (and falling for again) My Lady Jane!
#4 Most anticipated release for the second half of the year?
WHAT I don't have a book in mind right now – I haven't been up to date for a while. So tell, me: which book are you excited for?
#5 Biggest disappointment?
So disappointed, I didn't even finish this book. The Gilded Wolves reminded me so much of Six of Crows, but it was a cheap replica, I wasn't impressed by the writing and the storyline was okay at best and the characters didn't appeal to me. And that made me super sad because I was EXTREMELY excited to read this book.
#6 Biggest surprise?
I reread Faust as an exam prep and I have to admit – wow. I really enjoyed it the first time around (original review here), but the second time around was so much deeper, I understood religious, social and moral conflicts and was able to analyze them and actually write a structured argumentation based on the drama.
#7 Favoriten new author (new to you or debut)?
Christelle Dabos and A Winter's Promise! I did stop reading The Missing of Clairedelune because it was just too extremely slow – nothing happened, descriptions over descriptions and tiny actions. If I have much time at some point, I will pick it up because I did love everything about the universe and characters, and the story seemed promising and intriguing – but I don't have much concentration when nothing happens and all you're looking for while reading is for the chapter to end for some new action to be introduced.
#8 Newest favorite fictional character?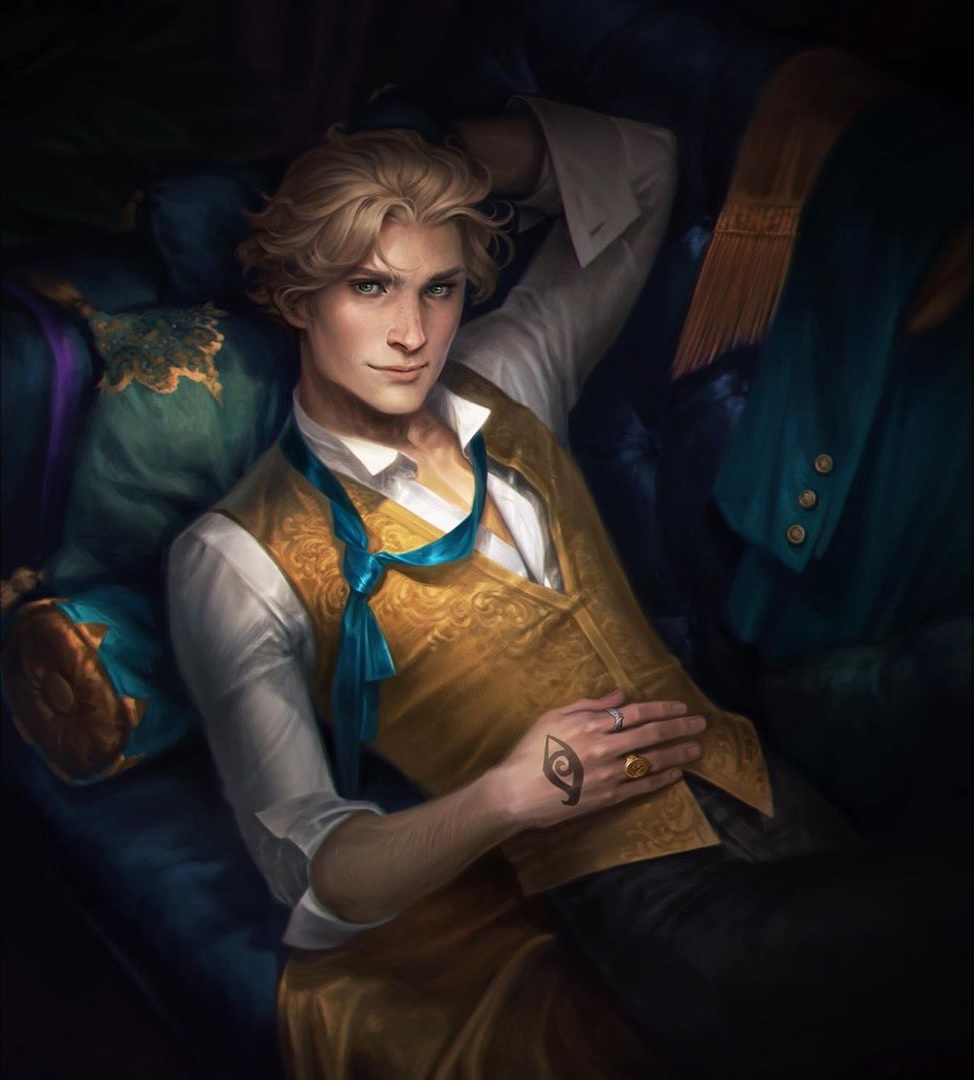 Can we just stop right here and take a moment to appreciate this phenomenal character: Matthew Fairchild in Chain of Gold, ladies and gentlemen. I'm not going to spoiler much, but you're in for many awesome scenes, some Cassie Clare famous love triangle, and the ending will leave you breathless.
#9 A book that made you cry?
Prisoner of Azkaban was the one book I had not reread and therefore, emotions were overflowing at the end. It was just too much, too tragic and such a beautiful emotion and I could never stop thinking about Harry's joy and hope when Sirius talks to him and says he could come live with him – and then they never get the chance to.
#10 A book that made you happy?
Despite the obvious tragic ending, Goblet of Fire had such powerful and action-packed scenes that it made me truly happy! So many awesome small details I loved and cherished and I was super happy I chose to reread it!
#11 Favorite book-to-movie adaption you've seen this year?
This was a while ago, but I watched The Silence of the Lambs with my dad, not knowing it was based on a book?! Anyways, great great movie – creepy, full of action, twists and turns, some disgusting parts due to the cannibalistic elements but over all: fantastic!
#12 Favorite post you've written this year?
There are many: I discovered a new passion of mine and that would be cooking/baking for others and then obviously writing about it!
Recipes: fast mini desserts! (my newest segment where I share recipes I loved)
What quarantine has taught me, life update + Harry Potter all the way! (full of positive vibes, food and experiences!)
And last but not least: Shadowhunter quotes that go way too deep! (because the pain is real, people)
#13 Most beautiful book you've bought or received this year?
Again: The Missing of Clairedelune because have you ever seen such a gorgeous cover?!
#14 What books do you need to read by the end of 2020?
A Curse so Dark and Lonely: because I have been wanting to read it forever, it has been (un)patiently resting on my shelf, being ignored and slowly turning into grumpy grandpa.
Renegades: no words for the amount of time I have said I want to read this and will read it next. No words.
Sapiens: finish it, this time. Amazing book, yet wrong timing.
#15 Favorite book community member?
ALL OF YOU: because I just reached 600 followers and I can't handle myself. Thank you, each and everyone of you, for keeping up with my daily struggles and complaints and for caring what I have to say. I am beyond grateful for the opportunity to share my thoughts and even more love to all of you for reading it!
That's it: I tag Sahi @myworldofbooks, Evelyn @evelynreads, Rendz @readingwithrendz, Aria @booknookbits (no pressure!)
I hope you enjoyed this tag, feel free to do it as well! Happy reading and let's get into the second half of the year (may it be happier than the first!) and enjoy your summer!