It's been a while since I did a Wrap-Up post, but I haven't been super active the past two months and so it would have been pretty boring haha! I haven't read a ton of books throughout February, but I posted some tags and discussions and so here we are!
Books I read in February
I read 1984 by George Orwell for school and I had mixed feelings: I loved the beginning, it was super intense and I was very intrigued. However, the slow pace over the course of the book kind of ruined that intensity and I ended up rating it 3.5 stars. However, after some research it has occurred to me that this might be one of the most important books in terms of totalitarianism and all-powerful states.
I also reread (half of) Six of Crows which was absolutely magical. I'm not the biggest fan of rereading books because the suspense is not as present as the first time – boy, was I wrong. Best decision I ever made. The characters are everything, I was able to discover precious details and hadn't it been for school, I'd have finished this book in one days time.
After reading Six of Crows I decided to give The Gilded Wolves a try because everyone's always comparing the two – and it was the biggest mistake ever. Yes, the two books have similarities, but only because TGW is a cheaper replica with more boring and less intense plot. I'm not totally disliking this, but it won't be a five-star read either!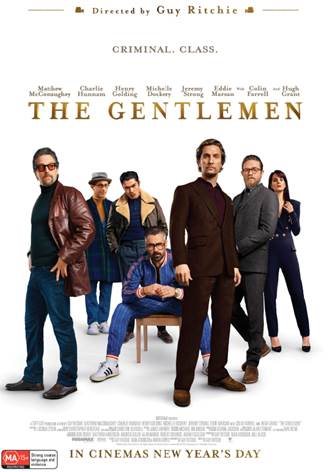 I started a new category Mini Movie Reviews and The Gentlemen was my very first! The movie was brilliant, full of awesome actors (McConaughey, Charlie Hunnam, Henry Golding, Hugh Grant and Michelle Dockery), a suspenseful plot and so much humor!!! I can only advise you to watch this new movie, especially since its set in London!
Tags, discussions and more!
My blog celebrated its second birthday on Feb 3rd! And I couldn't be any happier and thankful for everyone of my 45o followers! It's been one hell of a ride and I can't wait to write many many more posts and have many more awesome conversations in the comments!
The Book Blogging Firsts Tag ft. me exposing myself! – full of old reviews, my first design, discussion and tag!
TTT: 5-star predictions!
TTT: the last ten books that gave me a hangover!
TTT: characters I'd follow on social media!
LTB: How many POVs is too many?
LTB: What makes an engaging blog post?
LTB: What are your thoughts on reading challenges?
That's it – sorry for the late post, I was in the middle of writing yesterday but then my dad called me to dinner, so here we have it on March 2nd. I wish you all a very happy March and happy reading!