First of all: thank you very very very very very much Cherry @cherryblossombooks for nominating me! I haven't answered any questions for so long and so I'm super excited – let's go!
The rules:
Thank the blogger who nominated you
Answer the 11 questions the blogger asked you
Nominate 11 bloggers
Ask your nominees 11 questions
Notify your 11 nominees
#1 If you had to choose a character to live for the rest of your life with, who would you choose?
So the pick was every person – so partner, friend whatever – and I think I'll go with: oh god, three choices. 1) Julian from The Dark Artifices as a partner because he is such a loyal soul and I think he'd be perfect to live with. 2) Ron as a best friend – this is super random, but I was going through my favorite books in my head and he popped up. I guess I love the way he's always in a good mood, funny and just has Harry's back no matter what. 3) Hermione as a best friend. To be honest, Ron or Hermione, I can't choose – Hermione and I are more similar as a person, but I need a little fun in my life as well…
#2 Which one book would you never stop rereading?
The Silver Trilogy – oh I read it every year either during Christmas or the fall break and I love it every single time! I know it by heart, but the characters are my favorites, the plot is amazing, it's super hilarious and it's set in London!
#3 Ebook or physical?
PHYSICAL! Firstly, I love the feeling of a book in my hand. Secondly: the feeling of an old spine with cracks is the best ever and only true book lovers know that. Thirdly: I have the weakness to never finish an ebook unless I really really love it and so I basically don't have an option.
#4 Pineapple on pizza: hell no or good?
ähhhhh, I have never tried it 😦 I can't tell, but I'm not a hater and would love to order it one day. Problem one: I don't want to order a whole pizza just to realize I don't like it. Problem two: none of my friends like it so I can't just steal a piece and try. Problem three: and this might be the most tragic, I don't often eat pizza!
#5 Favorite memory?
Either going to the Harry Potter Studio Tour in London with my mother, or the summer holidays spent in Spain with my best friend at her grandparents' house when we were younger – filming iMovies, playing water ball with her brothers and watching Chihuahua of Beverly Hills 2, Cats and Dogs and The Bill Cosby Show every morning!
#6 What's your favorite GIF?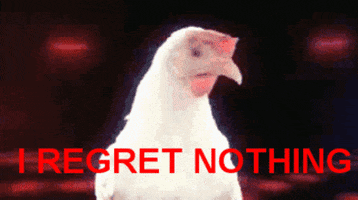 There are some more – especially since my best friend usually creates gifs of us herself (not sharing tho haha) – but I'm more of the sticker type anyway! But Barbie gifs are THE BEST!
#7 Controversial: Hermione of Katniss?
That is super clear for me: Hermione all the way. I loved The Hunger Games, but I never really adored Katniss as a character, she was a great fighter for justice and the face of the rebellion, but I never liked her complex character as much as I love Hermione's perks and her values (reading, reading, reading and education as the solution for problems hehe). Could also be that I love Harry Potter more and haven't read The Hunger Games in many years!
#8 Tell us a funny memory!
My best friend and I love to talk in a British accent (we're crazy about the UK!) and we usually talk British when it's just us two – and so whenever we're in the city shopping or simply buying groceries, we pretend to be from Britain. We've done it so often and so strictly stick to our characters that people often think we're really from Britain (we live in Germany, might be good to know) and then ask if we needed help because we're not from here. We're always super happy if anyone actually believes us! (Might be a weird thing we do, but it's fun for us haha, and us alone, most of our friends get super annoyed when we start talking in an accent)
#9 If you had to choose a magical creature to turn into for a day, which would it be?
This just popped into my head: a unicorn. How cool would that be? I've always wanted to just run and run like a normal horse and experience the sensation of being free – and then also flying? And bringing joy to small girls would be cute as well!
#10 A book you want to burn (or severely damage since burning is a little extrem)
That is a very good question: I'd go with The Gilded Wolves not because it was the worst book I've ever read, but simply because I had such high expectations and was utterly disappointed. Secondly, I'd go with Wuthering Heights because that was just loooooong and uneventful and too mixed up. Thirdly, probably Crooked Letter, Crooked Letter by Tom Franklin, the novel I have to read for school which, at first, wasn't good but not the worst one I'd ever read – but which is now slowly but steadily getting on my nerves…
#11 Favorite Quote – bookish or otherwise
"We do not get to choose when in our lives we feel pain," said Matthew. "It comes when it comes, and we try to remember, even though we cannot imagine a day when it will release its hold on us, that all pain fades. All misery passes. Humanity is drawn to light, not darkness."

Chain of Gold, Matthew to James
And because the best and deepest and wisest quotes and the ones that give each and every one of us unrealistic expectations about love are all to be found in the Shadowhunters universe, I have dedicated a whole post to that because one can't simply choose one quote and ignore the rest: Shadowhunters Quotes that go way too deep.
my questions
What has been your biggest aha-moment in 2020?
What's the one thing you learned during Quarantine?
What's the best book to read while stuck at home?
What's your favorite thing to bake/cook at the moment?
What was your favorite book you read this year?
Have you discovered any new authors you love?
What was the genre you read most this year?
Do you have any bookish goals for next year?
Name the one book you can read over and over again and why?
Which book do you HAVE to read next year?
How was your bookish year – highlights, favorites, disappointments!
I nominate: Sahi @myworldofbooks, Evelyn @evelynreads, Lori @thereadingfairy, Rukky @eternitybooks, Aria @booknookbits, Kaya @afictionalbookworm + YOU! (of course, don't feel pressured!!)
That was super fun!!!! I hope you have great holidays and Merry Christmas if you celebrate!! Happy reading!