I haven't quite done something like that where I talk about books I haven't read yet, but you have to try new things! So here a couple of books I'm taking with me on vacation!
The hate u give by Angie Thomas
This book not only won the National Book Award longlist of 2017, but also the Goodreads choice awards best young adult fiction prize and it has earned it. This book talkes about discrimination, racism and speaking up.
When her unarmed best friend gets shot by a police officer, Starr decides to take matters in her own hands. As almost the only black girl at her privat high school, she has suffered from discrimination and even racism.
This book is an amazing way to tell young people how the world really is behind all the equality politicians say their country has achieved. Racism is part of our daily lives, whether you accept it or not and things have to change!

War Storm by Victoria Aveyard, fourth novel of the "Red Queen" series
War Storm is the fourth and last novel of the bestseller's series "Red Queen" and I can't wait to read it soon!
This book talks about a revolution in a monarchy, where silver-blooded people reign over the red-bloodedb because silver-bloods have special powers, while the red-bloods don't. Mare is red-blooded and plays a leading role in the upcoming revolution. Other than all the other redbloods, she has powers and is therefore a great danger to the thrown, because she isn't the only one!
This whole series has thrown me off of my feet due to the fantasy and the world's creation!

The fates divide by Veronica Roth, second novel of the "Carve the mark" series
For anyone who has loved the new novel of Veronica Roth (Carve the mark) will be pleased to hear that the second and final novel of the series is finally out. I must admit, I wasn't a big fan of the Divergent series but this series has really developed itself into one of my favorites!
It takes place in a gallery, where everybody has a fate that will come upon you whether it's impossible or not. Cyra Noavek is the sister of the evil king of the Shotet, who has (at the end of the first novel) been captured by her best friend, Akos, who is a Thuvesit. The Shotet and Thuvesit have been rivals for as long as anyone can remember and now the gallaxy seems to interfere with their business as well!
I recommend this book to anyone loving fiction or Veronica Roth because the first novel had me thrilled!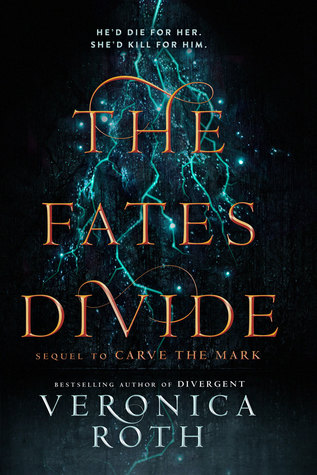 Ash Princess by Laura Sebastian

This book has only been on my list for a couple of minutes, but the plot really convinced me! As I haven't put much thought into this book, here's the original plot:
Theodosia was six when her country was invaded and her mother, the Fire Queen, was murdered before her eyes. On that day, the Kaiser took Theodosia's family, her land, and her name. Theo was crowned Ash Princess–a title of shame to bear in her new life as a prisoner.