It's Saturday and I went to the movies with my mum yesterday to watch the new Guy Ritchie movie called The Gentlemen and it was fantastic. Here are my thoughts!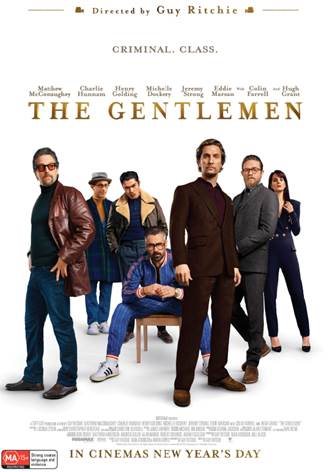 I won't write a detailed synopsis, so here are the most important details: Drug lord Mickey Pearson wants to retire and tries to sell his drug imperium in England to a rich Jewish businessman. What he doesn't expect is to set off a chain of blackmail and schemes trying to undermine him. It's set in London featuring Matthew McConaughey, Charlie Hunnam, Henry Golding, Hugh Grant and Michelle Dockery.
Wow. There were so many fantastic aspects of this movie, I don't know where to start. It started off slow and so I was like "oh no, not this again"; but the paste increased after just five minutes and it was a hell of a ride the rest of the movie.
I love Guy Ritchie, his movies are always super awesome: The Man from U.N.C.L.E. is one of my absolute favorite movies ever, I've watched it like 100 times. Snatch, King Arthur and Sherlock Holmes were also masterpieces and so I had super high expectations – and he didn't let me down.
The plot was intense, full of humor, suspense and surprise. The screenplay was Guy Ritchie trough and through, it had all my favorite actors (I mean Lady Mary Crawley as the wife of a Drug Lord, I didn't see that coming) and it was set in London (even in the pub Guy Ritchie owns with David Beckham where you can drink his own beer, it's called Lore of the Land for anyone who's interested in visiting, it's worth it! Fitzrovia, London).
I mean, Hugh Grant is so much older now and has developed a little belly, but he's still an amazing actor and I love Charlie Hunnam! And they were all dressed super British!!!
That's it – I'd be able to write so much more, but this is supposed to be a mini review, so I guess all I can say now is watch the movie if you love the type of movie Guy Ritchie writes, if you either love GB, suspense or great sense of humor! Happy reading!